Order your Fillet Pro today for only $379 including shipping using discount code DAL0402
Welcome to the Captain Dallas approved Fillet Pro fish cleaning table virtual house of discounts. For my loyal blog followers and online friends. The Fillet Pro was designed for the serious fisher person. Made of custom molded High Density Polyethylene with ultra violet stabilizers the Fillet Pro will provide many years of reliable service.
The Fillet Pro has a 4 foot by 2 foot non-skid working surface, 4 foot by 1/2 foot positive drain shallow sink, full kitchen size drain, rear trash gate with bucket holder, 6 knife slots, 2 bagging stations and for serious fishermen two refreshment holders. The overall size of the Fillet Pro is 5 foot by 2 1/2 foot.
The Fillet Pro is designed for a variety of mounting applications from full base cabinet, bent tubing base, 2X4 base and 2 inch metal or PVC tubing bases. Weighing just under 30 pounds the Fillet Pro is easily packed in to remote locations whether in-land or off shore.
In the photo above our prototype aluminum base is shown. This light weight and super rugged base can be installed as is or modified into an enclosed base cabinet.
With a MSRP of $449 the Fillet Pro is a good value, but there's more! Blog followers and Fishing Forum members get $50 discount by ordering online with this discount code DAL0401.
The least expensive base for DIY guys and gals is built with pressure treated lumber. All the materials for this base cost less than thirty dollars. As with the aluminum base the basic PT wood can be converted into a base cabinet.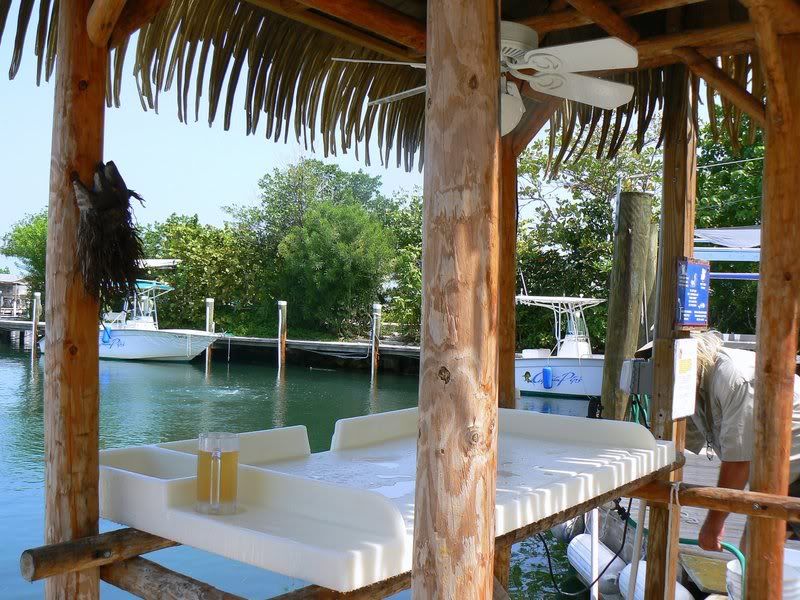 Other base designs are in the works to meet every angler or craftsman's needs. The Cypress base below is just like the basic pressure treated, but the beauty of Florida Cypress.
For a limited time we will be looking for DIY fishermen to build various base mounts and provide photos and details on how the base is built, cost, difficult etc. The photo below shows the dimensions of the Fillet Pro and the various mounting options.
Click on photo to enlarge.
For the non-do it yourselfers a variety of custom bases are available to suit your needs and your budgets. Choose from the basic mount or have our quality contractors build you your dream fish cleaning station.